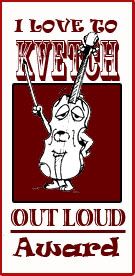 This will be short since I have a houseful of extras today and a wedding to help get ready for. I'm also inventorying my crockery since it is a family affair. However, I promised myself I will let the bride make the first toss. The most sophisticated of prognosticators have determined that she will most likely to lob several large platters tomorrow. Seriously, mazel tov to the bride and groom. They've overcome a lot to get to this point and I am so happy for them.
Best Target of an Angry Flame-Throwing Pixie Mob
goes to Sue's harasser. Sue, I really hope this sorts itself out quickly for you.
The Award of Free Time
Three cheers to all the pixies whose little wildcats are now the responsibility of schools for a least a few hours a day. A round of peace and quiet for the busy mamas who have survived the Heatwaves and Monsoons that made up Summer 2007. Y'all, don't be like me and then volunteer for every freaking PTA committee because all that free time starts to feel scary, okay?
Style and Elegance Award
Brava to Yankee T for her elegant "A Whiny Poem About the Heat." I've long admired your ability to not just string words together coherently, a feat in itself for me most days, but you can do it verse. A beautiful, old-fashioned silk fan for you so you can cool off the Scarlet O'Hara way.
Baby, Get Out Her Belly Award
. Jenevieve, I hope your baby arrives soon. Sending you speedy labor vibes to help get things started.
Serendipity Award
to Jenny F. Scientist for finding some expensive antibodies when cleaning out her defrosted samples. A pair of permacold freezers for you.
Before the Brigadoon disappears into the horizon, let's give a lifetime supply of crockery for Mykal, Turtlebella, Queen of West Procrastination, Phantom Scribbler, DevilMacDawg, and all the other pixies with toxic relatives or impossible officemates.
Thanks for playing along and I'll leave the comments open for any impromptu awards from the floor. Until next week, when Madeleine will helm the Brigadoon. Have a great week everyone!