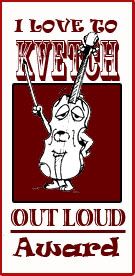 This awards ceremony is brought to you time-delayed courtesy of the giant timesuck, I mean
insightful discussion
taking place at Bitch, Ph.D. on American attitudes toward money as seen through the lens of the insane cost of housing. What does that have to do with Wednesday Whining, other than some overlap in participants?
This comment
, which might as well be our rallying cry:
Forfeit whining rights?
Never!
And on that note, I award the
Whine of Style
to Yankee Transplant, for a beautifully structured poem on how good life is, which leaves her nothing to whine about. Nooooooothing to whiiiiiine about! It's a tragedy.
(And a nod to my very own Snuggly Girl, who had basically the same complaint after her first day of school, though she expressed it without style. And followed up with two nights of sleep disturbance. Worrying? Naaaaah. Not her. But I digress.)
Whine of Substance
awards (and buckets of hugs) to:
KLee
, because sewage in the workplace? Not OK.
Sue
, whose endless headaches and depression leave her apathetic about the chicken and the egg.
Margalit
, whose kids have pulled a switcheroo on her. And extra hugs to get you and the Boy through tomorrow's funeral.
Elevated Risk of Mullet
award to
turtlebella
, for "But really, I'd prefer just to have the sour skittles without the whine-induction."
Seasonal Anti-whine
award to
Sue
for "New pens."
Finally, a great big back-to-school hug for everyone who sent a baby (of any age) off into the unknown this week. And everyone who tripped on them as they bumbled around their new school.